"Love can happen anywhere at any time."
In this edition…
A day at MA Centre

Matruvani
IAM20 meditation course
Indian tabla concert
Seva Day
Befriending
GreenFriends
9000km of Love

What's On

A DAY AT THE MA CENTRE UK
Ganapathy Homa & Satsang on Amma's Karthika day
Saturday 25th September

Bhajan Practice/Seva 2.30-4pm
Satsang 4-6pm

211 Fair Acres Bromley BR2 9YG
MA Centre UK is very pleased to inform you that an inaugural Ganapathy Homa will be held at Amrita Hall on Saturday 28th September. At Amma's ashram, homas are performed following the ancient Tantric method which is a very powerful and meditative form of ritualistic worship. Prayers to Lord Ganapathy are always offered at the beginning of all endeavours, for the removal of obstacles in our lives and for protection. Ganesha forgives all our mistakes and blesses us with right knowledge.
By doing a Homa, powerful spiritual vibrations are created around us and these forces work to remove negative influences in our life and help surround us with positive energy which can bring peace of mind as well as material progress. You may wish to register for a special SANKALPA (see the link at the top) if you are facing obstacles in your life or are about to start a new venture, sit for exams, celebrate your birthday or wedding. All are welcome.
Following the Ganapathy Homa in the morning, we will be meeting up in the afternoon at 2.30pm for practice bhajans and seva followed by a formal Satsang at 4pm. Please come for the whole day or either part as time and circumstance permit.
IAM20 meditation course
Saturday October 9th 10-1pm
This is a profound meditation technique which takes 20 minutes to perform. It has been developed for people who have no prior knowledge of meditation or spirituality but who wish to bring greater tranquillity and harmony into their lives. The course will give you a thorough grounding in the practice which will allow you to go away and practise on your own. It combines movement, breathing and visualisation in a sequence leading to deep inner peace. The course will be led by Mike Sofroniou, and although there is no charge for the teaching there is a charge of £15 to cover costs. Please use this link to register.
You will receive detailed information nearer the time.
FUND-RAISING CLASSICAL INDIAN TABLA CONCERT with Shahbaz Hussein
at Amrita Hall Saturday 16th October
Time tbc
Please keep this date in your diary free and look out for more details in the next issue.
SEVA DAY AT MA CENTRE UK
Saturday or Sunday September 18th or 19th
10.30am - 4.30pm
Do join us for a day of seva activities, such as oiling the picnic benches, gardening, putting up the marquee for the Ganapathy Homa etc. Please keep the day free.
GreenFriends
Read our latest blog on
how to store and preserve your surplus homegrown fruit and veggies to ensure a plentiful supply of food during the difficult to grow months.
"
Even if only we have a tiny plot of land, we should try to grow a few vegetables using organic fertilizers. Spending some time with our plants, we should talk to them, kiss them and sing to them. This relationship will give us new vitality."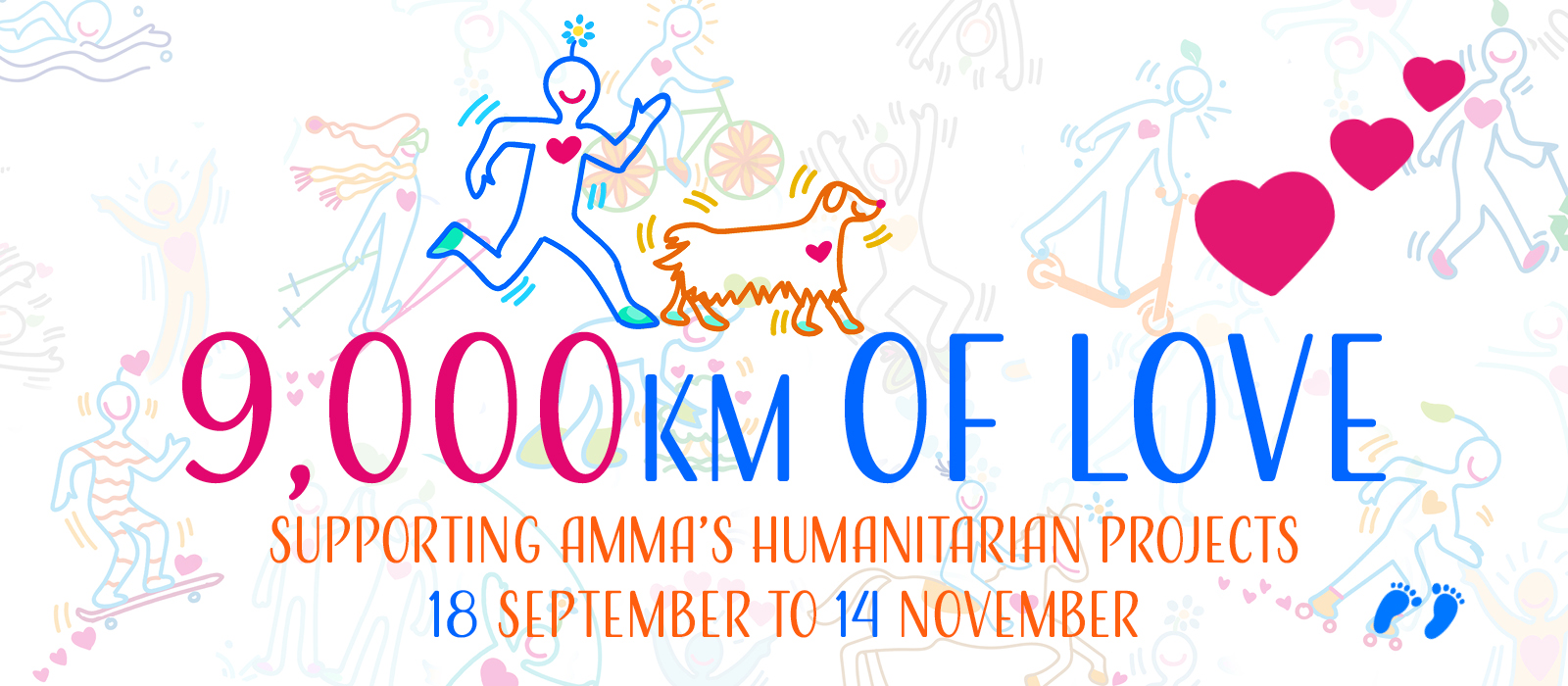 We will once again join our brothers and sisters across Europe in symbolically travelling the 9000km distance (=5600 miles) between Europe and India. This event is taking place to honour this time of year, when so many of us have (historically) looked forward to being with Amma in person.
From the 18th September to 14th November we invite you to join us by either walking, swimming or cycling while raising much-needed funds for Amma's Charitable aims and help make up what we would normally raise through the European tour.
There is a minimum £10 registration donation and we encourage everyone to donate whatever they can or fundraise to spread the word about Embracing the World's many programmes.
Watch the ETW video for inspiration and register here to pledge the number of kilometres you can travel to help us reach Amma in hearts, minds and feet!
You can also combine the walking with community activity such as rubbish collection, tree planting, walking meditation or any other creative means to bring people together.
If you've never fundraised before here's an example of a JustGiving page last year:–
"I've happily contributed my time and donations to Embracing the World over the years, but never fundraised for Amma. The Walk of Love gave me the perfect opportunity to reach out to my wider network of friends, colleagues and family to promote Amma's work and ask for support. The generosity of response was overwhelming and I found the whole process deeply humbling and rewarding". Aparna
Watch this video for a snapshot of how the initiative brought us closer together as a UK community and some of the beautiful walks we went on in 2020. As an added bonus, we have Swami Shubamritananda booked for a satsang on November 14th to celebrate the end of our walk! Email info@amma.org.uk if you have any questions about the Walk of Love.
Daily Meditation: 7:30-8pm
White Flower Meditation for World Peace

Chanting Lokah Samastah mantra 108 times
Thursday Satsang: 6:30-7:30pm
108 Names of Amma

Playing 3-4 bhajans sung by Amma

Reading a passage from Amma's books

Arati
Sunday Satsang: 8.30am to 10 (in the summer)

108 Names of Amma

Lalitha Sahasranama

Mahishasuramardini Stotram

Reading a passage from Amma's books

Arati

10-10.30 online chat

Details for all these Zoom meetings:
Zoom
Meeting ID: 642 298 098
Password: 567123
The deadline for new articles for the next issue is close of play on September 18th, i.e. the last but one Saturday of the month.
Use Everyclick.com for Internet searches
Use Give as You Live for Internet shopping

Use

Ecosia

to help plant trees (

founded by

Christian Krull

after a trip around the world helped him to understand the problems of deforestation

)